Who Are You?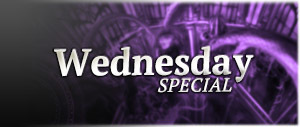 Today you have the chance to show your true colours! Our Wednesday Special includes a range of titles which offer various bonuses to strengthen your character.
Are you a member of a guild? Then help your guild make a name for itself as well! The Guildmaster Package is the best way to show your team spirit.
Paragon Spokesperson

Fallen Dynasty

Heart of the Lion King 

Trump Thug 
 You can find this daily special in the Item Shop under Hot Sales on Wednesday December, 16th, 2015 from 1pm to 11:59pm PST(7am to 5:59pm AEST).
« Housing Offers!
Server Maintenance - Dece ... »