Summer Treasures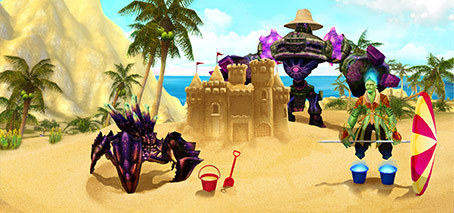 The summer has reached its searing zenith, and all of Taborea's inhabitants are suffering in the sweltering heat. Some of the more ferocious creatures, having become lethargic in the hot weather, have taken to hiding their secret treasures away in cool caves and lairs. Naturally they won't let you prise those shiny gold coins from their claws without a fight, but if you have the grit and determination to take them on, plenty of magnificent rewards are waiting.
What do I need to do?
During the event from August 16th (10:00 server local time) to August 30th (10:00 server local time), rally your friends and guild mates together and defeat the bosses from the instances listed below. This will give you a chance to collect the prized "Proofs of Myth"! Just remember that each boss only carries a certain number of Proofs, irrespective of how many fighters defeat them. Certain bosses in the following instances are carrying the reward with them:
Sydaphex in the Hall of Survivors
Sirloth in the Hall of the Demon Lord
Hidden Box (of Horatio Tia) in Sardo Castle
Jenny Giant in the Tomb of the Seven Heroes (Hard)
In addition to these instances, you'll also find bosses in the Ancient Dreamland during the event which will reward you with an additional Coin of Petals (7 Days) for each boss defeated. Visit the Varanas Central Plaza (Channel 1), where once per day Owenstein will exchange the coins found in the instance for more Proofs of Myth. Go and pay him a visit!
« Taborean Academy – Drop ...
Taborean Academy - EXP/TP ... »