Christmas Contests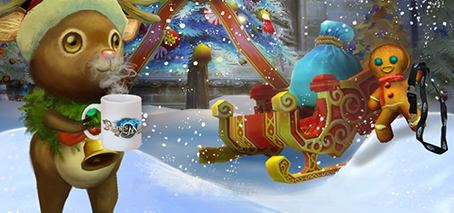 There's snow on the ground, the smell of spices in the air and a festive atmosphere gripping all of Taborea – yes, the Snowflake Festival will soon be upon us!
As with any great festival like this one, you can of course look forward to wonderful gifts… and if you take part in our big Christmas contests, you even have a chance to win an official RoM cup and lanyard!
What do you have to do? It couldn't be easier – simply send us a festive picture! Select one of the two categories and send us your creations before the end of the year. Take a screenshot or decorate your Christmas tree, and we will choose three winners from among the submissions for each category.
Terms and Conditions
You may only participate in one of the two categories.
Send your photo to the following email address by 31st December 2017: christmas_contest@runesofmagic.com
Enter the name of one of the two contests in the subject line: 'Christmas decoration' or 'Christmas spirit screenshot'
Please send your submission using the email address associated with your RoM game account, and include your character name and server in the email.
Permissible formats: .bmp, .gif, .jpg, .png, .tiff
Maximum size for images and screenshots: 5 MB
Christmas Decoration
What would the holidays be without the wonderful Snowflake Festival Tree? Send us pictures of your Christmas decorations! The only important thing to note is that your decorations must have a visible reference to Runes of Magic – and Christmas of course.
Christmas Spirit Screenshot
Do you enjoy taking screenshots and celebrating festivals? Then send us screenshots of your characters in the festive swing!
Please note that the user interface should be hidden, and in particular that chat messages and usernames of third-parties should not be recognizable.
The user interface can be hidden using the keyboard combination CTRL + Z – or deactivate 'Show Player Names' from 'Functions > System (Esc) > Interface Settings'.
Prizes
The lucky winners can look forward to the following prizes:
1x Runes of Magic Cup
1x Runes of Magic Lanyard
The winners will be chosen by the RoM team and announced in the forums, the website and on social media by 22nd January 2018. They will also be informed via email.
The RoM Team
« Festive Action Feeling
Taborean Academy - EXP/TP ... »