We're Celebrating 10 Years of RoM – Collect Your Gifts!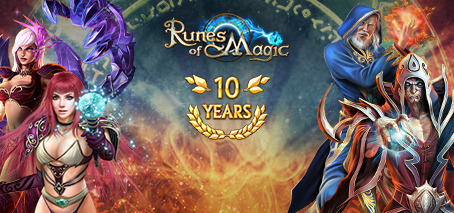 A full decade full of magic and adventure lies behind us – it's a true honor to be able to celebrate this grand occasion with you, the heroes of Taborea!
We're extremely proud and grateful to have shared this amazing journey with you all. All of us have met new friends, forged guilds, plans and weapons together, experienced epic adventures, reared our pets and even gone alpaca racing! It's been epic, and we hope that we will still be fighting by your side for many years to come.

In celebration of Runes of Magic's amazing 10th birthday, we've got lots planned. Over the coming month there are numerous events lined up, plus gifts to get you in the celebratory spirit:
- The legendary Anniversary Event returns with in-game activities offering you ways to reap great rewards, including a brand-new event you're all invited to!
- The Boost Event from 10th–19th March provides you with extra experience, talent points and an increased drop rate!
- The Login Event also runs from 10th–19th March and guarantees some cool prizes. Simply log in each day to collect your rewards – and whoever collects theirs every day can also look forward to a final special login reward!
- Exchange Event: Our friendly merchants are back – pay them a visit from 22nd–31st March!
- Costumes for Legends: Our warmest thank-you goes out to our veritable veterans of Taborea. If your account turns 10 years old this year, you'll receive the exclusive "Legend of Taborea" costume pack. Or if you've been with us for at least 7 years, you'll get the "Hero of Taborea" costume pack!
- Plus we've got plenty of shop offers in store for you as well. Keep your eyes peeled over the party weeks, as there'll be tons of great bargains available in the shop!
Full details on the individual events and how to collect your gifts can as usual be found in our forums.
Join us and let's get this party started!
One extremely proud RoM Team
« The Magic 10 – Join and ...
More Shop Offers for all ... »