Spring in the Taborean Air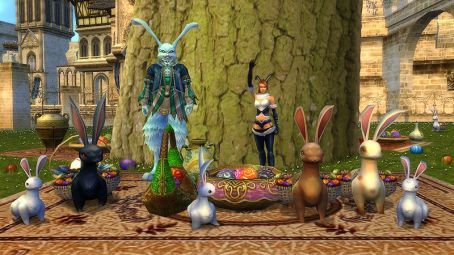 Winter is slowing losing its icy grip on the lands. All across Taborea, Wabbits are emerging from bushes and burrows to enjoy the gentle sunshine. Wabbits and clement weather – what else do you need to celebrate spring in Taborea? Ah, of course! Events! If you prefer to celebrate the holidays with exhilarating action rather than relaxation, we've got just the thing.
Boosts event
Between 19.04.2019 00:00 AM and 22.04.2019 11:59 PM (local server time respectively) you can look forward to an experience and talent point event: experience points you earn on quests and in combat will be increased by 200%, while you earn 500% more talent points in combat. You can also take advantage of a 200% increased drop rate!
Easter Gift
There's a surprise in store for you every day between 19.04.2019 and 22.04.2019, and you can look forward to various useful items to help you on your adventures. If you have multiple characters on your account, the presents will land in the mailbox of the first character you log in with. Even if you miss a day during this period, it won't have any effect on the remaining presents.
Mysterious Auras
Take part in the Mysterious Auras Event to get yourself in the rhythm ready for the challenging encounters. Fight in the following instances between 16.04.2019 (after the maintenance) and 23.04.2019 (until the maintenance):
Madro Troll Nest (normal and hard mode)
Raven Heart (normal and hard mode)
Vale of Rites (normal and hard mode)
Ice Blade Plateau (normal and hard mode)
Sun Temple of Eternal Sleep (normal and hard mode)
Have fun!
The RoM Team
« Taborean Academy - EXP/TP ...
Spring Rain Festival »